Join Pegasus Books and Drawn & Quarterly for the launch of Michael DeForge's darkly existential graphic novel Ant Colony. In just a few short years, DeForge's singular, idiosyncratic style has made him an important new voice in alternative comics. He will be presenting a slideshow with a signing to follow!
Appearing as a special guest for this stop in the Ant Colony tour is store favorite, Anders Nilsen, who will be presenting and signing copies of his new graphic novel, Rage of Poseidon.
Event address:
Pegasus Books Downtown
2349 Shattuck Avenue
us
Books: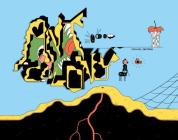 $21.95
Email or call for price.
ISBN: 9781770461376
Published: Drawn and Quarterly - January 28th, 2014
Ant Colony follows the denizens of a black ant colony under attack from the nearby red ants: from its opening pages, DeForge immerses the reader in a world of false prophets, unjust wars, and corrupt police officers. On the surface, Ant Colony tells the story of this war, the destruction of a civilization, and the ants' all-too-familiar desire to rebuild. Underneath, though, Ant Colony plumbs the deepest human concerns – loneliness, faith, love, apathy, and more. DeForge's striking visual sensibility – stark lines, dramatic color choices, and brilliant use of page and panel space – stands out in this volume.

 

"DeForge's is a world apart from our own, askew ever so slightly. It's a world of uneasy cuteness, of pop art degeneracy, and it rewards the curious travel- ler with remarkable imagery and unsettling stories." - The Globe and Mail

 

"DeForge is one of those rare comics naturals and Ant Colony proves it." - Jaime Hernandez, Love and Rockets

 

Michael DeForge was born in 1987 and grew up in Ottawa, Ontario. He has published a handful of comic books, which have received industry praise and two Eisner Award nominations. His illustrations have been published in the New York Times and Bloomberg View; his comics have appeared in Believer, Maisonneuve, and the Adventure Time comic book series. He lives in Toronto, Ontario.
---

$29.95
Email or call for price.
ISBN: 9781770461284
Published: Drawn and Quarterly - October 29th, 2013
Imagine you are Poseidon at the dawn of the twenty-first century. The oceans are dying and sailors have long since stopped paying tribute. They just don't need you anymore. What do you do? Perhaps, seeking answers, you go exploring. Maybe you end up in Wisconsin and discover the pleasures of the iced latte. And then, perhaps, everything goes wrong.

 

Anders Nilsen explores questions like these in his newest work, a darkly funny meditation on religion and faith with a modern twist. Rage of Poseidon brings all the philosophical depth of Nilsen's earlier work to bear on contemporary society, asking how a twenty-first-century child might respond to being sacrificed on a mountaintop, and probing the role gods like Venus and Bacchus might have in the world of today.

 

Anders Nilsen began self publishing in 1999 by photocopying drawings and comics from his sketchbooks and stapling them together into a mini called Big Questions. In the time since he has drawn numerous strips and graphic novels including Dogs and Water, Big Questions, Don't Go Where I Can't Follow, Rage of Poseidon, The End and others. His work has been anthologized in Kramer's Ergot, Best American Comics, Mome and elsewhere and his illustration has appeared on a number of book covers, newspapers and magazines. His work has garnered several Ignatz awards, and Big Questions received the 2012 Lynd Ward Prize for Graphic Novel of the Year, as well as a citation as one of 100 Notable Books of 2011 in the New York Times.
---