Casting For Recovery
For every copy of Down By The River purchased from this site, the author will make a donation to Casting For Recovery. Scroll down to order your signed copy, with 10% discount. For a personalized message, write your request in the "Comments" field at checkout.
ABOUT CASTING FOR RECOVERY
Casting for Recovery (CfR) provides healing outdoor retreats for women with breast cancer, at no cost to the participants. CfR's retreats offer opportunities for women to find inspiration, discover renewed energy for life, and experience healing connections with other women and nature. The retreats are open to women with breast cancer of all ages, in all stages of treatment and recovery. For over 25 years, women from all walks of life have benefitted from CfR's inspiring program model. Read more about Casting for Recovery here
ABOUT THE AUTHOR
Andrew Weiner is the author of the award-winning children's fly fishing book Down By the River, illustrated by April Chu. He is a supporter of cause-related fly fishing organizations including Casting for Recovery. Purchases from Pegasus Books via this page will be discounted 10% and the author will donate a portion of each sale to Casting for Recovery to support its great work. Books will be signed and can be personalized upon request. Thank you for supporting Casting for Recovery.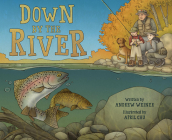 $16.19

ISBN: 9781419722936
Availability: Usually Ships in 1-5 Days
Published: Abrams Books for Young Readers - March 6th, 2018
---