P.S. I Miss You (Compact Disc)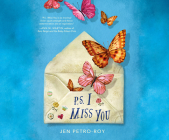 $39.99
Email or call for price.
Description
---
Evie's older sister Cilla is gone. Their parents sent her away to a strict boarding school after she got pregnant during her junior year of high school-because getting pregnant is not something the Morgan girls are supposed to do. They're supposed to go to church and eat fish on Fridays. They're supposed to be good little Catholics. But Evie can't believe her parents could be that cruel, and she doesn't understand why Cilla isn't responding to her almost daily letters-letters about the school play she didn't get cast in, the distance that's growing between her best friends, and the possibility that she's developing some decidedly un-Catholic feelings about the new girl in her class. So when the other kids at school find out about her crush, Evie sets out to find her sister, convinced that Cilla is the only one who can tell her if she should follow her heart and risk getting kicked out of her family, too, or if should start questioning her family and her faith...